Every semester, Students for Life creates a "tour" display that travels around the country, visiting college campuses and sparking dialogue. Sometimes, our greatest tours are brought out more than once (like "We Care," which focused on abortion in cases of rape). But this past semester, a new one was created about what a post-Roe v. Wade America will look like.
These images were taken from the display banners themselves, so they are exactly what college students nationwide have been seeing for the past few months.
A common misconception is that "feminism" only has one meaning. In reality, today's feminism differs quite radically from the feminism our fore-mothers founded. Alice Paul, Susan B. Anthony, and other founders of feminism were pro-life, calling out abortion for the anti-woman atrocity that it is. They knew that their rights would not be won by taking someone else's away.
Abortion supporters seem to view Roe v. Wade a bit too affectionately, unaware of its real ramifications. Most pro-choice young people don't even know what Roe & Doe did, expressing shock when told the truth that it wiped away state's rights and allowed abortion up until the moment of birth and for any reason. The only reason that isn't the reality in every state is because states can enact some prohibitive laws.
Roe v. Wade was founded on faulty data and untruthful rhetoric. The abortion lobby insisted that selling abortions wasn't the goal; it was because this would be safer for women. In reality, they knew this was the avenue to building the multi-million dollar abortion industry they operate today. Worth noting also is that 60 million is very likely an extremely low estimate, as most states don't have abortion laws (especially for chemical abortion).
The abortion industry has never been kind to women. From the start, their message has been, "You can't do it." This itself is fundamentally anti-woman, even without adding to it the fact that they push abortion and contraception – both of which are physically and emotionally detrimental. Oh, but they don't want to hear about any negative effects. That wouldn't be very feminist.
The abortion lobby had their timing spot-on. They were riding the coattails of a sexual revolution and had the support of a generation who did not want the consequences of their free-spirited lifestyles. Not to mention, people were not as informed about life in the womb as we are today. Photos did exist; but without the internet, such information was not widespread. Thus, the abortion lobby could capitalize on the lack of a visual. Humans condone colossal atrocities… as long as we can't see them.
Again, Roe v. Wade was born of bad data. The man himself, Bernard Nathanson, confessed later on that everything they said were boldface lies. The actual number of women who died in illegal abortions was about .2% of what they claimed. More women have died from legal abortion since Roe v. Wade. Planned Parenthood even recently got called out by the Washington Post for being the biggest liars of the year by continuing to perpetuate these numbers.
The abortion lobby and their best friend, the ACLU, regularly fight for abortion facilities to be completely unregulated. If a Planned Parenthood is caught using dirty equipment and expired medication (which happens all the time), they will deem the call for action "anti-woman and a barrier to access." For example, the St. Louis Planned Parenthood is the most dangerous abortion facility in America. They have called 75 ambulances in the last 10 years for confirmed medical emergencies. But it gets worse – they instruct ambulance drivers to approach the facility slowly and quietly so as not to attract attention to their misdeeds. While some poor woman lies bleeding in their waiting room.
The abortion industry asks America to "trust, but never verify." That's how we end up with dead women and abortionists who keep 2,246 aborted babies in his garage (plus 50 more in his car trunk).
Second Wave Feminism is the sect of the movement that got hijacked by abortion. There's a great book about this phenomenon by Sue Ellen Browder called Subverted. This wave of feminists believes that being pro-abortion is necessary to be a feminist; pro-life women are not allowed in their club. This is evidenced by pro-life women being excluded from the Women's March, among many other discriminatory actions.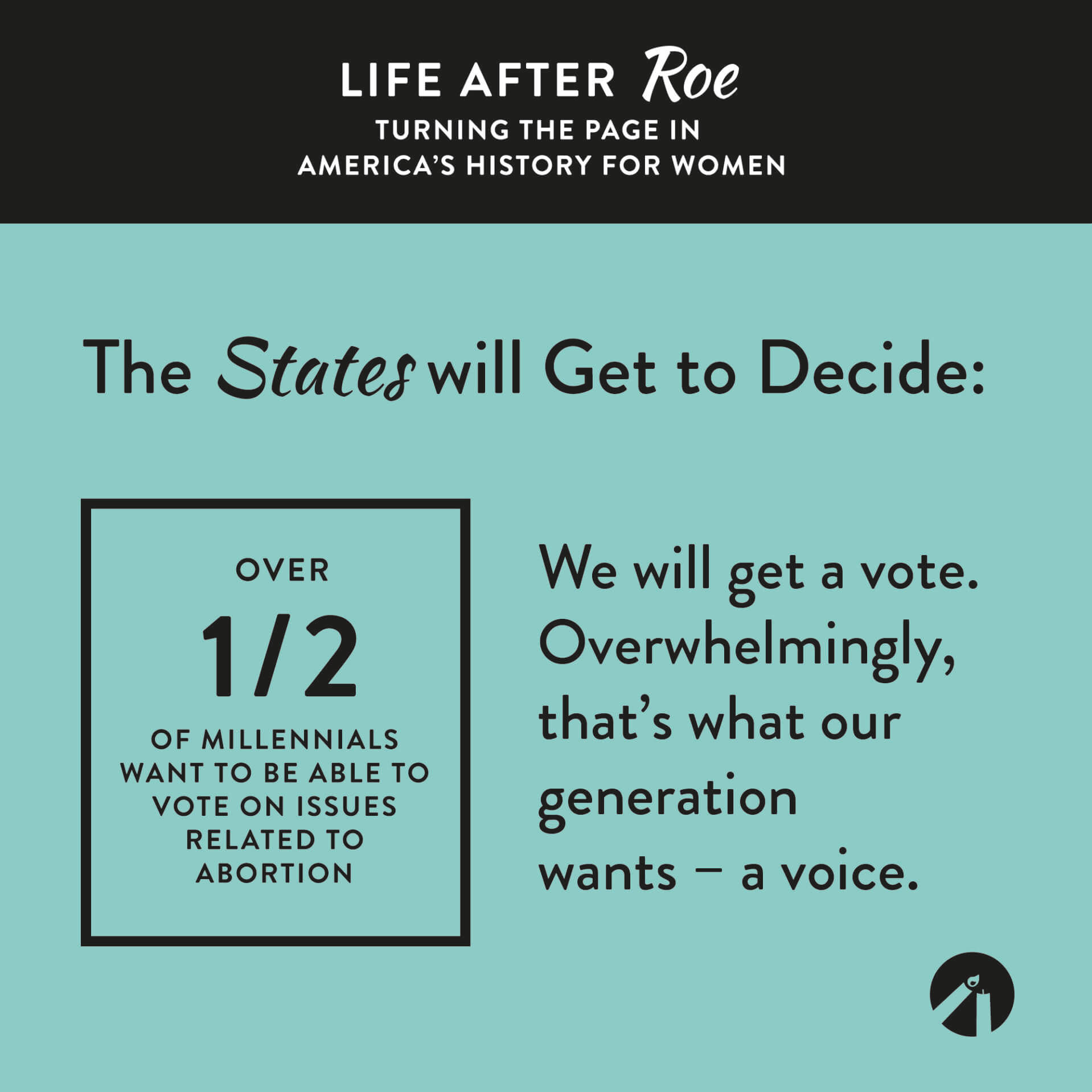 Both sides of the issue have their own polls that always seem to reflect results that favor the pollster. But here's a stat that transcends whether the majority is pro- or anti-abortion: people want a voice on it regardless. We're tired of being handed down decisions like Roe v. Wade, completely powerless. We want a vote.
This is another favorite scare tactic the abortion industry likes to spread around. A movement completely founded on lies isn't going to get very far. Women weren't even jailed prior to Roe v. Wade. And no one is on board with doing that after, either. Pre-Roe, judges did not punish mothers in abortion-related cases, noting that the mother is the second victim of a predatory abortion business. The people committing the actual killings are the criminals in question – abortionists are the ones who will face consequences for the illegal killings of preborn children.
The people who act out in rage and hate towards pregnancy resource centers have never genuinely visited one. It's pro-life people who have created the safety net that will catch families who face unexpected pregnancies. As Mike Pence recently noted in a speech, there are about as many families waiting to adopt as there are abortions. There's no such thing as an unwanted child.
Our Pregnant on Campus programs helps bridge the gap between helpful resources and students in need. Too many students confess they sought abortions because they simply didn't know their rights or that help was available to them. Pregnant on Campus empowers Students for Life campus groups to advertise themselves as supportive people for their pregnant peers to approach for help.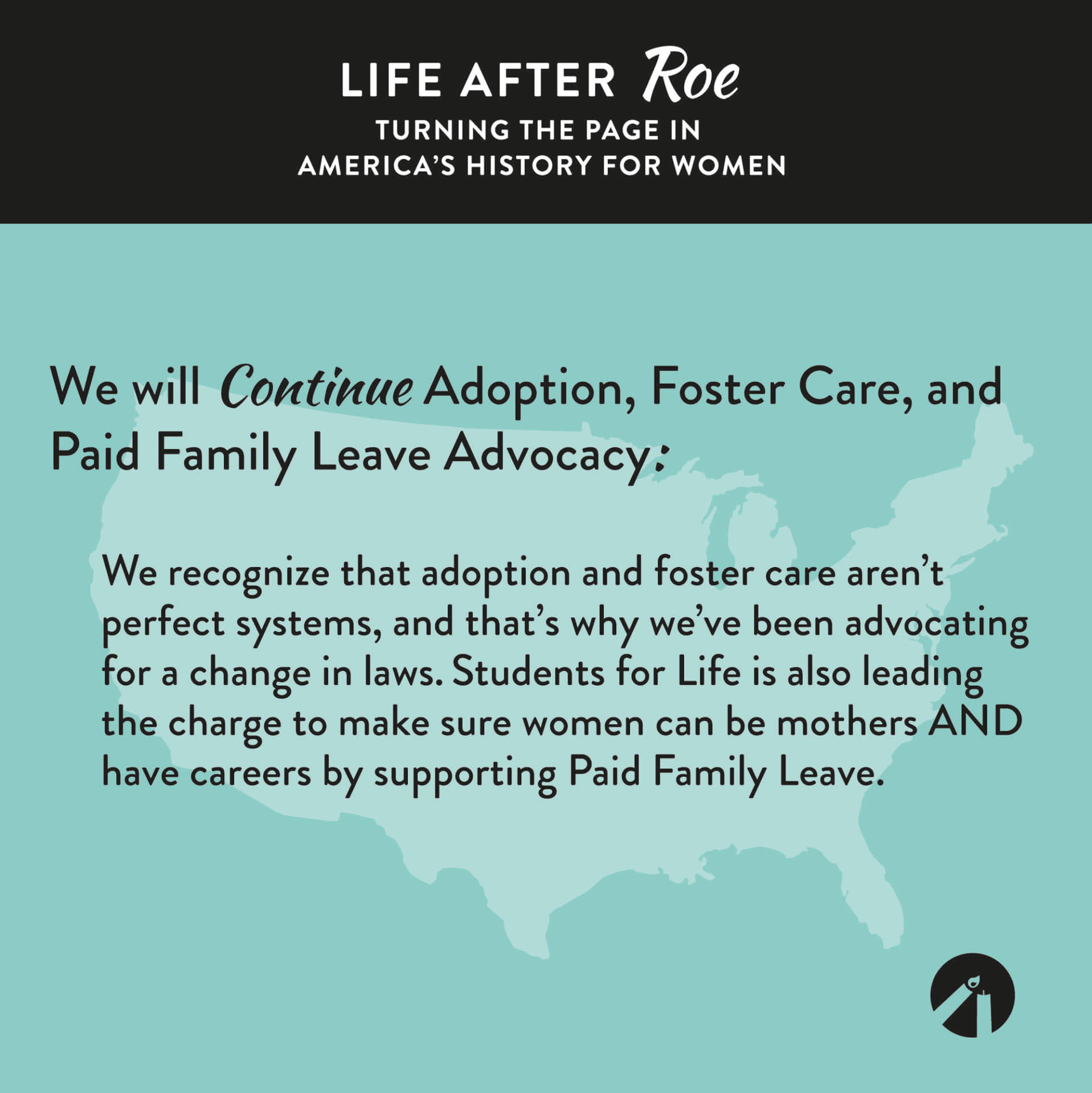 The condition of the foster care system, which is a talking point regardless of the individual's actual knowledge of the system, is not justification for abortion. It's incentive to fix the system, not kill the people who might go there. Continued efforts to create a pro-family society through adoption, foster care, and Paid Family Leave advocacy help pave the way for a post-Roe world where abortion is illegal, but perhaps more importantly, unthinkable.