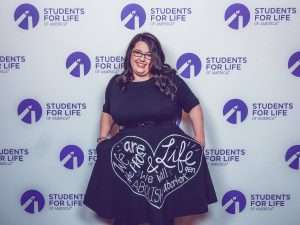 Kristan Hawkins is the fearless leader of Students for Life of America. Since her hiring in 2006, she has helped grow SFLA into the powerhouse that it is today. And that's in addition to growing her own family of six, two of whom were born with cystic fibrosis. 
Even with the heavy weight of countless lives lost that pro-lifers carry with us, there are so many things to be thankful for. There are big-picture victories in the movement, like pro-life laws being allowed to stand because the Supreme Court opted not to weigh in. There were babies saved from abortion this year.
This year, her thirteenth year leading Students for Life, Kristan took a moment to reflect on her…
12 Days of Christmas – Things (& People) I'm Thankful For at SFLA 
12. Twelve amazing Regional Coordinators on our West Coast Team.
11. Outlets for spreading the truth about LIFE: Website, Facebook, Twitter, Instagram, Pinterest, Tik Tok, Podcast, YouTube, Snap Chat, Times Square billboards, email/texting.
10. Ten amazing Regional Coordinators on our East Coast Team.
9. More than 9 years working with our Executive Vice President, Tina Whittington.
8. Eight years since launching the Pregnant on Campus program, helping pregnant students get the resources they need to stay in school.
7. Seven amazing board members working for our success.
6. Six leading our Development Team, helping SFLA grow.
5. Five members on our Communications Team.
4. Four beautiful children.
3. Three working moms on staff with 4 kids, and 15 team members who have children… because the pro-life movement believes parents can do it all!
2. Two great team members leading our c4 efforts with Students for Life Action.
1 One great organization that I've been privileged to lead for 13 years.
From the entire Students for Life team… Merry Christmas and Happy New Year!