Hosting a baby shower is an excellent way to help pregnant woman while having a great time. There are two different types of baby showers your group can host.
Steps for Hosting a Campus Baby Shower
Contact your local Pregnancy Resource Center (PRC), introduce yourself, and tell them what you are planning to do.  Ask what materials they need.  Visit www.optionline.org to find a nearby PRC.
Find a location on campus that is big enough to host a baby shower and reserve it.  Post an event on Facebook and invite everyone to come.  It is also a good idea to put small flyers in everyone's mailbox as well as flyers throughout the dorms.  Make sure to include what the PRC needs on these flyers.
Plan activities for the shower.  There are many free games you can print out online.  For example, 'Family Movie Night' and 'Baby Price is Right,' are great games to play with large groups of people.  Talk to a local florist and ask if they would be willing to donate flowers for table centerpieces that could also be used as prizes.
Contact a local bakery and ask if they would be willing to donate baked goods.  If not, make a sign-up sheet and have people volunteer to bake things and bring finger food.
Have your baby shower!  When you have completed steps 1-4, your preparations are complete.   Enjoy the shower, clean up, and then drop off everything people brought at the PRC.  Write thank you notes to everyone who helped with the shower.
Steps for Hosting a Community Baby Shower
This type of baby shower was inspired by the Pro-Life Aggies group at Texas A&M University when they hosted a "Community Baby Shower," asking shoppers of a local store to purchase diapers, wipes, formula, and baby items to give to the group so they could, in turn, donate them to a local resource center for young parents. After their Baby Shower, Pro-Life Aggies was able to donate over $700 in cash and truckloads of baby items!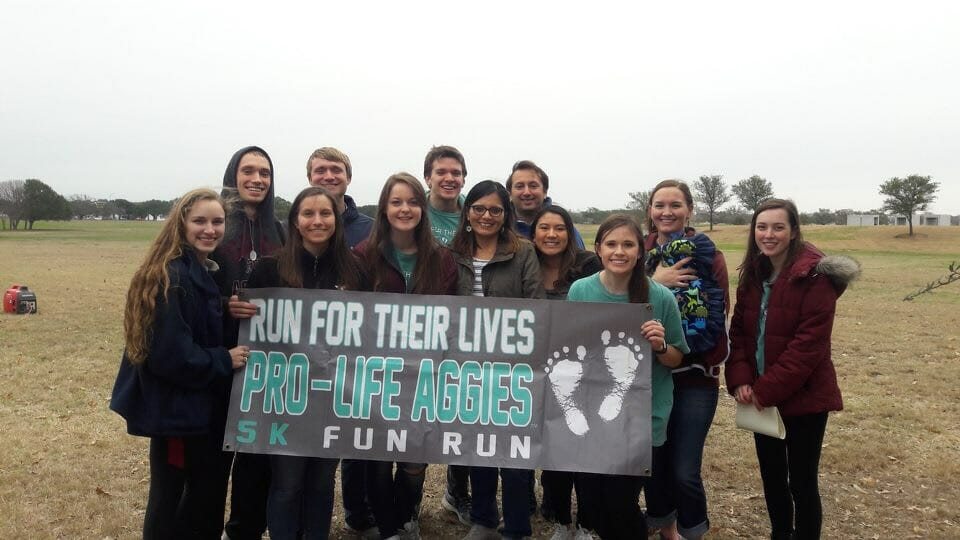 The concept is simple: stand outside a store and ask the people entering to buy baby items to give you to donate to a local pregnancy center. If you follow these simple steps, you're sure to have an awesome turnout of donations!
Contact the local pregnancy help organization in your area and tell them your group wants to collect donations for them. Ask them what items they are generally most in need of. Visit www.optionline.org to find a nearby PRC.
Contact (by phone or in person) your local Target, Walmart, Kroger, H-E-B, or other grocery store several weeks or months ahead of time to get permission to host a donation drive outside of their store on your chosen date. Have as much information about the local pregnancy center you're helping as possible, in case the manager requests it.
Once permission is obtained, make signs that say "We need: diapers, baby formula, wipes, baby clothes, etc." and "All donations go to (name of pregnancy help organization)." Have a jar ready in case people want to make cash donations or give gift cards to the pregnancy center instead. Make small flyers with contact information for the pregnancy center and their website and address, too.
Call to confirm the date of the Community Baby Shower with the store the week beforehand.
On the day of the Community Baby Shower, dress comfortably. Bring a table to place donations and to tape the signs. Have someone physically hold the sign with the list of needed items, since people are more likely to read it. Always listen to store employees if they request you place the table in a specific location in front of the store.
About an hour before you pack up your donations to leave, take down the signs and stop requesting items. That way people still shopping who intend to donate will not be stuck with baby items they have no use for because you left!
Helpful Tips
Be friendly and courteous at all times, whether requesting permission from a manager or customers entering the store.
Have sunscreen handy, because it's possible to get burned even in the shade.
Never leave money or material donations unattended. If you must leave momentarily, make sure a group member is aware of it.
Don't hand customers fliers unless they request them, otherwise they might litter the store with them. You want the store to like having you out there!
Be prepared to hand information about the pregnancy help organization to customers. Some of them might be in need of help the PRC can provide them.
You will encounter all different kinds of people from all different backgrounds and lifestyles. Always be kind and loving.
Thank the store for letting you host a donation drive. Make a phone call to the store, write a thank you letter or even write to the newspaper to publicly thank them.